Floral Wedding Arches
A floral wedding arch is the most memorable element of a wedding ceremony. The wedding arch is an ancient symbol of the heaven cope, and it is commonly known, that marriages are made in heaven.
The general meaning of the wedding arch nowadays is hearth, prosperity and family happiness. There are also a few functional reasons to order a floral wedding arch: the couple will be in the center of attention, an arch is a great background for taking pictures, an arch is a key decorative element.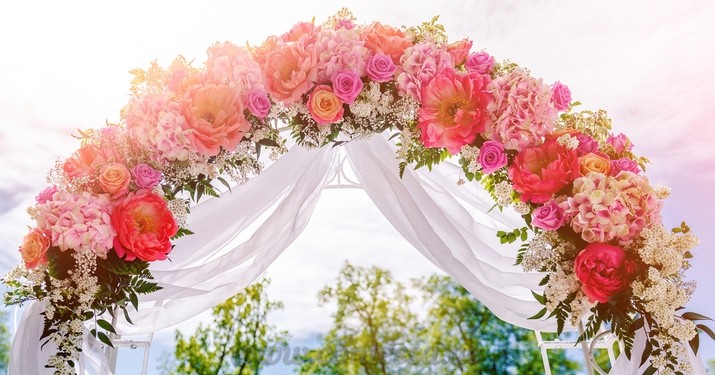 There are a few basic principles of wedding decoration, using a floral arch:
An arch is to harmonize with the other decorative elements; the color palette and texture of the wedding décor need to be integrated. It is especially important for an arch to emphasize the beauty of the bridal dress.
It is recommended to support an arch with the other floral decorative items. Small flowery compositions placed on chairs, ornamental columns or along the path are great additional design components.
An arch ornamentation is a creative process, which usually requires artistic skills and time. Traditionally, white textile is used for an arch finishing, such as silk, organza, tulle, satin, chiffon. Beads, feathers, crystals, ribbons, lace and bands are widely used to accomplish the composition. In the most creative design projects wooden and metal frames contrast floral delicacy.